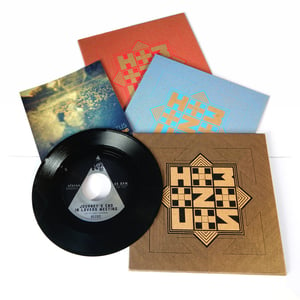 €

9.90
HEZUS is a wife & husband duo from San Diego, CA: Ian (Drums/Vox/Guitar/Bass/ Sounds) and Doreen de Cerbo (Keys/Vox/Perc/Sounds).
"JOURNEY'S END IN LOVERS MEETING" / "COVERED" is HEZUS' first vinyl release. It features DRB from San Diego's DIRTY DRUMS collective.
It's limited to 300 copies: all of them sold on beautiful silkscreened arigatos by Superheights: 100 black, 100 red and 100 electric blue, all hand-numbered.
Plus you got color insert with liner notes and sticker inside.
Vinyls are pressed by URPressing in Nashville, TEN. (Third Man, Daptone, Trouble In Mind...).
If you have a favorite arigato color, mention it on your paypal bill. First come first serve.
NOTE: Bigcartel shipment calculator seem to ask for ridiculous prices.
Don't hesitate to pass your order and i'll double check and payback each order concerned. Here's the real deal:
Shipments prices:
France: 1 copy: 3€ - 2/3 copies: 5€
Europe: 1 copy: 4,80€ - 2/3 copies: 6,50€
Rest of the world: 1 copy: 6,80€ - 2/3 copies: 8,50€